06/13/2017
Best Steak on the Planet! pt. 2
by Ken Giustino
I met to Vincent Pacifico owner of New York Prime Beef Co. for breakfast at the Montauk Lake Club to talk about beef! I had sampled the Porterhouse, Filet Mignon, and NY Strip last month, and they were out of this world. Vinny asked if I had ever had Kobe Japan strips steak? He said they are like heaven! I hadn't had the pleasure yet so Vinny said I had to try the Kobe and he would send some of his BONE-IN Cowboy Ribeyes with them. What could I say? Great!
Vinny suggested to cook the Kobe on a black iron skillet for the best flavor and even heating. I'm in! I finally had a use for my dad's Cast Iron Flat Griddle Pan. It's been in the family for over 70 years, and as dad always does it was in mint condition.
Season the steaks with salt or the seasoning of your choice (I like to use Celery Salt) then brush steaks lightly with oil. Place in a very lightly oiled pan preheated on medium/medium-high just before the oil reaches the smoke point. Cook for approximately 3-6 minutes until they develop a char. Turn and repeat on the other side. Check doneness with a meat thermometer. If not finished, reduce heat and continue cooking until meat reaches desired internal temperature. If the pan gets too hot while cooking, simply remove from flame and move back once smoking stops. Always let steaks rest at least 5 minutes before serving.
The Cowboy Ribeye is best on the BBQ, brush the steaks lightly with oil and again I also used the celery salt for seasoning. Place on a preheated grill over high heat for approximately 3-6 minutes until they develop a char. Turn and repeat on the other side. The Cowboy Ribeye's were 32oz. and close to 2" thick so the only way to guarantee a perfect steak is to use a thermometer. Steaks should be checked frequently, as a few minutes can be the difference between rare and well done. If you do not have a meat thermometer, slicing off a very small section of the steak to check is preferable to overcooking. Remember, you should always let your steak rest before serving at least 5 minutes to ensure the juices stay in the meat and the cooking process finishes.Temp tips130-135 degrees: Medium Rare135-145 degrees: Medium145-150 degrees: Medium Well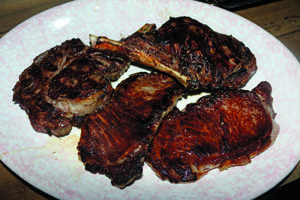 So once again we invited some friends over to enjoy this selection of the US Prime Steaks with us. The Kobe Japan was so tender and juicy it practically melted in your mouth. This steak was thoroughly enjoyed by all. The Cowboy Rib Eye was equally as juicy and delicious with just enough texture to enjoy each bites natural flavors. I can honestly say that as with any steak everyone has their favorite cut, but both of these steaks were two of the best steaks I've ever eaten. Our guests agreed, and as we enjoyed each other's company, sipped red wine, and focused on our steaks we were split on which cut was our favorite.
New York Prime Beef offers superb steaks delivered fresh to your home; they are sent overnight in a cooler with ice packs, aged and ready to eat. Check out their website for additional information. www.newyorkprimebeef.com.They're currently looking for a Montauk Restaurant to exclusively feature the New York Prim Beef collection on their menu.
They can offer a wide array of steaks dry aged to perfection, carved by an expert butcher to provide you, your family and friends with the best steak they've ever had. To quote Vinny, "the Best Steaks on the Planet" I'll keep you posted!